ISM/QSM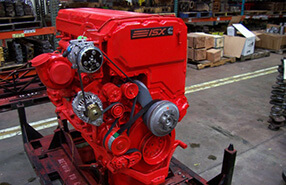 Factory Original CUMMINS ISM/QSM Manuals
Click below to select your year CUMMINS ISM/QSM. View factory original operators, service repair, electrical wiring diagram and parts catalog manuals for the CUMMINS ISM/QSM. If you're looking for FACTORY manuals, DIY Repair Manuals is your online superstore. Click or call now.
Click Your Year CUMMINS ISM/QSM
Related Questions
What is the operating rpm of a Cummins ISM?
The operating rpm of a Cummins ISM diesel engine can vary depending on the specific model and application, but it typically ranges from 1200 to 2100 rpm. The engine's operating rpm is determined by the load placed on the engine, as well as the speed requirements of the application.
How many cylinders does a Cummins ISM have?
The Cummins ISM is a straight-six engine, which means it has six cylinders arranged in a line. The engine's inline configuration allows for a more compact design and smoother operation than engines with a V-shaped cylinder arrangement. Additionally, the straight-six design of the ISM provides better torque and power characteristics, which makes it suitable for a wide range of applications.
How long does Cummins ISM last?
The lifespan of a Cummins ISM engine can vary depending on several factors, including the engine's specific model, how well it is maintained, and the operating conditions it is subjected to. However, with proper maintenance, the ISM engine is designed to have a lifespan of 600-800K miles.